About Us
Ayshea Tandoori is a Indian takeaway in Sutton. Why don't you try our Saag Aloo or Hyderabadi?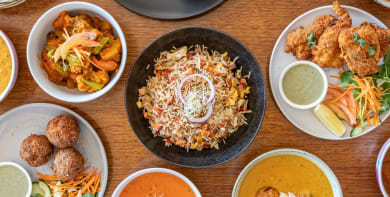 Reviews
237 reviews
Amy
"Delicious food and hot on arrival"
27/06/2020
Kirsty
"Delicious as usual"
27/06/2020
Nathalie
"My favourite in the area!"
26/06/2020
Donald
"Great Restaurant, been using it for 25 years . First time using Just Eat Came nice and early well presented Lovely warm food too. Definitely will order using this app again"
26/06/2020
Menu
Choose Your Vegetable Sides
Bombay Aloo
Spiced potatoes
£3.20
Saag Aloo
Spiced potatoes with spinach
£3.20
Aloo Gobi
Spiced potatoes with cauliflower
£3.20
Aloo Peas
Spiced potatoes with peas
£3.20
Chilli Potatoes
Spiced potatoes cooked with fresh green chillies
£3.20
Brinjal Bhaji
Fresh spiced aubergine
£3.20
Bhindi Bhaji
Fresh spiced okra
£3.20
Saag Bhaji
Spinach cooked with garlic & onions
£3.20
Saag Paneer
Spinach cooked with Indian cheese
£3.20
Mutter Paneer
Peas cooked with Indian cheese
£3.20
Kabli Chana
Spiced chickpeas
£3.20
Chana Saag
Spiced chickpeas with spinach
£3.20
Daal Tarka
Lentils cooked with fresh garlic
£3.20
Daal Samba
Fresh lentils with vegetables
£3.20
Raitha Onion
Homemade yoghurt with onion or cucumber
£1.40
Raitha Cucumber
Homemade yoghurt with onion or cucumber
£1.40
Special Vegetable Biryani
£6.50
Biryani Chicken Tikka Breast
£8.50
Onion Bhaji
3 per portion
£2.50
Samosa Meat
Delicious meat OR vegetable samosa
£2.50
Samosa Vegetable
Delicious meat OR vegetable samosa
£2.50
Prawn Puri
Spicy prawns served on deep fried homemade bread
£3.50
King Prawn Puri
Spicy king prawns served on deep fried homemade bread
£4.20
Chaat Chicken
Served on deep fried homemade bread
£3.50
Chaat Lamb
Served on deep fried homemade bread
£3.50
Chaat Aloo
Served on deep fried homemade bread
£3.50
Chaat Vegetable
Served on deep fried homemade bread
£3.50
Chicken Pakora
Diced chicken barbecued with spices then deep fried in a gram flour coating
£3.50
Seekh Kebab
Minced fillet of lamb with freshly ground spices & herbs, freshly barbecued on skewers
£3.50
Kebab Roll
A seekh kebab rolled in a home chapatti served with spicy tomato sauce
£3.80
Chicken Tikka Roll
Freshly barbecued pieces of chicken tikka wrapped with salad, drizzled with mint yoghurt in a homemade chapati
£3.80
Tikka Starter Chicken
Diced chicken OR lamb marinated in mild spices, freshly barbecued on skewers
£3.50
Tikka Starter Lamb
Diced chicken OR lamb marinated in mild spices, freshly barbecued on skewers
£3.50
Quarter Tandoori Chicken
Chicken marinated in special spices, barbecued on flaming charcoal in the tandoor
£3.50
Korma Prawn
Mild & creamy
£5.90
Korma King Prawn
Mild & creamy
£7.90
Curry Prawn
Medium in strength
£5.90
Curry King Prawn
Medium in strength
£7.90
Madras Prawn
Fairly hot in strength
£5.90
Madras King Prawn
Fairly hot in strength
£7.90
Vindaloo Prawn
Very hot in strength
£5.90
Vindaloo King Prawn
Very hot in strength
£7.90
Saag Prawn
Cooked with spinach
£5.90
Saag King Prawn
Cooked with spinach
£7.90
Dansak Prawn
Sweet, sour & hot with fresh lentils
£5.90
Dansak King Prawn
Sweet, sour & hot with fresh lentils
£7.90
Pathia Prawn
Hot & sour with coconut
£5.90
Pathia King Prawn
Hot & sour with coconut
£7.90
King Prawn Jalfrezi
Cooked in an iron wok with fresh tomatoes, peppers, onions & chillies
Spicy & hot
£9.00
Garlic Prawns
Spicy with fresh garlic
£5.90
Pilau Rice
Cooked with saffron
£2.50
Aloo Rice
Basmati rice cooked with spiced potatoes
£2.90
Special Fried Rice
Basmati rice cooked with eggs, peas, sultanas & almonds
£3.00
Keema Rice
Basmati rice cooked with minced lamb & spices
£3.00
Korma Chicken
Mild & creamy
£5.00
Curry Chicken
Medium in strength
£5.00
Curry Meat
Medium in strength
£5.00
Madras Chicken
Fairly hot strength
£5.00
Madras Meat
Fairly hot strength
£5.00
Vindaloo Chicken
Very hot in strength
£5.00
Vindaloo Meat
Very hot in strength
£5.00
Bhuna Chicken
Dry & spicy
£5.00
Dopiaza Chicken
With caramelized onions
£5.00
Dopiaza Meat
With caramelized onions
£5.00
Rogan Chicken
With fresh tomatoes
£5.00
Rogan Meat
With fresh tomatoes
£5.00
Garlic Chicken
Spicy with fresh garlic
£5.00
Garlic Meat
Spicy with fresh garlic
£5.00
Dansak Chicken
Sweet, sour & hot with lentils
£5.00
Dansak Meat
Sweet, sour & hot with lentils
£5.00
Pathia Chicken
Hot & sour with coconut
£5.00
Pathia Meat
Hot & sour with coconut
£5.00
Saag Chicken
Cooked with spinach
£5.00
Saag Meat
Cooked with spinach
£5.00
Korma Chicken Breast
Mild & creamy
£5.50
Curry Chicken Breast
Medium in strength
£5.50
Madras Chicken Breast
Fairly hot strength
£5.50
Vindaloo Chicken Breast
Very hot in strength
£5.50
Bhuna Chicken Breast
Dry & spicy
£5.50
Dopiaza Chicken Breast
With caramelized onions
£5.50
Rogan Chicken Breast
With fresh tomatoes
£5.50
Garlic Chicken Breast
Spicy with fresh garlic
£5.50
Dansak Chicken Breast
Sweet, sour & hot with lentils
£5.50
Pathia Chicken Breast
Hot & sour with coconut
£5.50
Saag Chicken Breast
Cooked with spinach
£5.50
Chicken Tikka Balti Masala
Tender pieces of chicken tikka cooked with a thick creamy sauce. (Breast of chicken for 50p extra)
£6.00
Meat Tikka Balti Masala
Tender pieces of lamb tikka cooked with a thick creamy sauce
£6.00
Balti King Prawn Masala
Juicy king prawns cooked with a thick creamy sauce
£9.00
Special Vegetable Curry
Spiced potatoes, fresh green beans, mushrooms, cauliflower, carrots, peas, cabbage, bhindi & chickpeas
£5.00
Vegetable Korma
Mixed vegetables in a mild & creamy sauce
£5.00
Vegetable Dansak
Mixed vegetables in a sweet, sour & hot sauce with fresh lentils
£5.00
Vegetable Balti
Mixed vegetables cooked in our homemade spicy balti sauce
Medium strength
£5.00
Set For 1 - Regular
1 Starter (not including king prawn)
1 Main course dish
1 Vegetable side dish OR naan bread
1 Rice dish
£13.00
Set For 2 - Regular
2 Starters (not including king prawn)
2 Main course dishes
1 Vegetable side dish
Naan bread
2 Rice dishes
£26.00
Set For 4 - Regular
4 Starters (not including king prawn)
4 Main course dishes
2 Vegetable side dishes
2 Naan breads
4 Rice dishes
£52.00
Set for 1 - Chicken Breast (Main)
1 Starter (not including king prawn)
1 Main course dish
1 Vegetable side dish OR naan bread
1 Rice dish
£13.50
Set for 2 - Chicken Breast (Main)
2 Starters (not including king prawn)
2 Main course dishes
1 Vegetable side dish
Naan bread
2 Rice dishes
£27.00
Set for 4 - Chicken Breast (Main)
4 Starters (not including king prawn)
4 Main course dishes
2 Vegetable side dishes
2 Naan breads
4 Rice dishes
£54.00
Peshwari Naan
Homemade bread stuffed with almonds & sultanas
£2.30
Keema Naan
Homemade bread stuffed with minced lamb
£2.30
Paratha
A delicious unleavened flaky bread, lightly fried
£2.00
Stuffed Paratha
Unleavened bread stuffed with mildly spiced vegetables, lightly fried
£2.30
Roti
Plain unleavened bread cooked in tandoor
£1.60
Puri Bread
Lightly fried bread
£1.20
Tikka Masala Chicken
Marinated chicken OR lamb, spiced & grilled over charcoal & cooked in a mild creamy sauce
£6.00
Tikka Masala Lamb
Marinated chicken OR lamb, spiced & grilled over charcoal & cooked in a mild creamy sauce
£6.00
Tandoori King Prawn Masala
Marinated king prawns spiced & grilled over charcoal & cooked in a mild creamy sauce
£9.00
Zal Murgh Masala
Diced chicken barbecued with spices, then deep fried, then cooked in our masala sauce
Fairly hot
£6.00
Pili Pili Chicken
Marinated chicken cooked with garlic, onions, tomatoes, fresh chillies & ginger
£6.00
Jalfrezi Chicken
Chicken, lamb OR prawn cooked in an iron wok with tomatoes, peppers, onion & chillies-spicy &  hot
£6.00
Jalfrezi Lamb
Chicken, lamb OR prawn cooked in an iron wok with tomatoes, peppers, onion & chillies-spicy &  hot
£6.00
Jalfrezi Prawn
Chicken, lamb OR prawn cooked in an iron wok with tomatoes, peppers, onion & chillies-spicy &  hot
£6.00
Korai Chicken
Chicken OR lamb cooked with diced onions, peppers & freshly ground spices in a sizzling iron pan (Korai)
£6.00
Korai Lamb
Chicken OR lamb cooked with diced onions, peppers & freshly ground spices in a sizzling iron pan (Korai)
£6.00
Kashmiri Chicken Korai
Spring chicken cooked with garlic, mushrooms, peppers in a special blend of kashmiri herbs & spices
Spicy but medium strength
£6.00
Hyderabadi Chicken
A memorable dish of chicken OR lamb cooked to a medium hot taste in a sauce made with minced lamb, garlic & onions
One of our most popular dishes
£6.00
Hyderabadi Lamb
A memorable dish of chicken OR lamb cooked to a medium hot taste in a sauce made with minced lamb, garlic & onions
One of our most popular dishes
£6.00
Pasanda Chicken
Tender pieces of chicken OR lamb marinated in spices & yoghurt, cooked in a mild creamy deliciously flavoured sauce with herbs
£6.00
Pasanda Lamb
Tender pieces of chicken OR lamb marinated in spices & yoghurt, cooked in a mild creamy deliciously flavoured sauce with herbs
£6.00
Butter Chicken
Tikka flavoured chicken OR lamb simmered in a creamy sauce enriched with butter & mild spices
£6.00
Butter Lamb
Tikka flavoured chicken OR lamb simmered in a creamy sauce enriched with butter & mild spices
£6.00
Chicken Tikka Korma
Marinated chicken cooked in a rich & creamy sauce
£6.00
Chicken Tikka Bhuna
Marinated chicken, cooked with tomatoes, onions & fresh coriander. Spicy medium in strength
£6.00
Garlic King Prawns
Succulent king prawns, pan fried with fresh garlic, tomatoes & onions, medium strength & spicy
£9.00
Kofta Curry
Spicy meatballs cooked in our traditional curry sauce
£6.00
Hariyali Chicken Masala
Green chicken baked in a marinade of mint & coriander served in a mild creamy sauce
£6.00
Morisha Chicken
Oriental hot spices cooked with green chillies & garlic in a tangy tamarind sauce
Madras strength
£6.00
Morisha Lamb
Oriental hot spices cooked with green chillies & garlic in a tangy tamarind sauce
Madras strength
£6.00
Morisha Prawn
Oriental hot spices cooked with green chillies & garlic in a tangy tamarind sauce
Madras strength
£6.00
Chilli Masala
Pieces of freshly barbecued chicken served with our special homemade masala sauce with fresh green chillies
Madras in strength
£6.00
Tikka Masala Chicken Breast
Marinated chicken OR lamb, spiced & grilled over charcoal & cooked in a mild creamy sauce
£6.50
Half Tandoori Chicken
Chicken marinated in special spices, barbecued on flaming charcoal in the tandoor
£6.50
Tikka Main Chicken
Diced chicken OR lamb marinated in mild spices freshly barbecued on skewers in the tandoor
£6.50
Tikka Main Lamb
Diced chicken OR lamb marinated in mild spices freshly barbecued on skewers in the tandoor
£6.50
Shashlik Chicken
Diced chicken OR lamb marinated in herbs & spices freshly grilled over flaming charcoal served with roasted tomatoes, onions & green peppers
£6.50
Shashlik Lamb
Diced chicken OR lamb marinated in herbs & spices freshly grilled over flaming charcoal served with roasted tomatoes, onions & green peppers
£6.50
Tandoori Mixed Grill
A selection of lamb tikka, chicken tikka, tandoori chicken & seekh kebabs all freshly barbecued & served with naan bread
£9.00
Contact Us
Find Us
57 Lind Road, Sutton, SM14PP
We deliver to
SM1, SM2, SM3, SM4, SM5, SM6