About Us
Ayshea Tandoori is a Indian takeaway in Sutton. Why don't you try our Saag Aloo or Hyderabadi?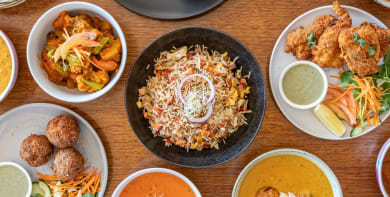 Reviews
216 reviews
nawar
"Quick delivery , well cocked ,tasty food"
26/05/2020
Jackie
"Fantastic experience! Food was delivered on time and was really hot and fresh. The whole family were happy with their choices. It's now our new favourite curry house. Thank you Ayshea Tandoori!"
23/05/2020
K
"Arrived early and hot!"
10/05/2020
Steve
"Amazing food really enjoyed it 100%"
09/05/2020
Menu
Choose Your Vegetable Sides
Bombay Aloo
Spiced potatoes
£3.20
Saag Aloo
Spiced potatoes with spinach
£3.20
Aloo Gobi
Spiced potatoes with cauliflower
£3.20
Aloo Peas
Spiced potatoes with peas
£3.20
Chilli Potatoes
Spiced potatoes cooked with fresh green chillies
£3.20
Brinjal Bhaji
Fresh spiced aubergine
£3.20
Bhindi Bhaji
Fresh spiced okra
£3.20
Saag Bhaji
Spinach cooked with garlic & onions
£3.20
Saag Paneer
Spinach cooked with Indian cheese
£3.20
Mutter Paneer
Peas cooked with Indian cheese
£3.20
Kabli Chana
Spiced chickpeas
£3.20
Chana Saag
Spiced chickpeas with spinach
£3.20
Daal Tarka
Lentils cooked with fresh garlic
£3.20
Daal Samba
Fresh lentils with vegetables
£3.20
Raitha Onion
Homemade yoghurt with onion or cucumber
£1.40
Raitha Cucumber
Homemade yoghurt with onion or cucumber
£1.40
Special Vegetable Biryani
£6.50
Biryani Chicken Tikka Breast
£8.50
Onion Bhaji
3 per portion
£2.50
Samosa Meat
Delicious meat OR vegetable samosa
£2.50
Samosa Vegetable
Delicious meat OR vegetable samosa
£2.50
Prawn Puri
Spicy prawns served on deep fried homemade bread
£3.50
King Prawn Puri
Spicy king prawns served on deep fried homemade bread
£4.20
Chaat Chicken
Served on deep fried homemade bread
£3.50
Chaat Lamb
Served on deep fried homemade bread
£3.50
Chaat Aloo
Served on deep fried homemade bread
£3.50
Chaat Vegetable
Served on deep fried homemade bread
£3.50
Chicken Pakora
Diced chicken barbecued with spices then deep fried in a gram flour coating
£3.50
Seekh Kebab
Minced fillet of lamb with freshly ground spices & herbs, freshly barbecued on skewers
£3.50
Kebab Roll
A seekh kebab rolled in a home chapatti served with spicy tomato sauce
£3.80
Chicken Tikka Roll
Freshly barbecued pieces of chicken tikka wrapped with salad, drizzled with mint yoghurt in a homemade chapati
£3.80
Tikka Starter Chicken
Diced chicken OR lamb marinated in mild spices, freshly barbecued on skewers
£3.50
Tikka Starter Lamb
Diced chicken OR lamb marinated in mild spices, freshly barbecued on skewers
£3.50
Quarter Tandoori Chicken
Chicken marinated in special spices, barbecued on flaming charcoal in the tandoor
£3.50
Korma Prawn
Mild & creamy
£5.90
Korma King Prawn
Mild & creamy
£7.90
Curry Prawn
Medium in strength
£5.90
Curry King Prawn
Medium in strength
£7.90
Madras Prawn
Fairly hot in strength
£5.90
Madras King Prawn
Fairly hot in strength
£7.90
Vindaloo Prawn
Very hot in strength
£5.90
Vindaloo King Prawn
Very hot in strength
£7.90
Saag Prawn
Cooked with spinach
£5.90
Saag King Prawn
Cooked with spinach
£7.90
Dansak Prawn
Sweet, sour & hot with fresh lentils
£5.90
Dansak King Prawn
Sweet, sour & hot with fresh lentils
£7.90
Pathia Prawn
Hot & sour with coconut
£5.90
Pathia King Prawn
Hot & sour with coconut
£7.90
King Prawn Jalfrezi
Cooked in an iron wok with fresh tomatoes, peppers, onions & chillies
Spicy & hot
£9.00
Garlic Prawns
Spicy with fresh garlic
£5.90
Pilau Rice
Cooked with saffron
£2.50
Aloo Rice
Basmati rice cooked with spiced potatoes
£2.90
Special Fried Rice
Basmati rice cooked with eggs, peas, sultanas & almonds
£3.00
Keema Rice
Basmati rice cooked with minced lamb & spices
£3.00
Korma Chicken
Mild & creamy
£5.00
Curry Chicken
Medium in strength
£5.00
Curry Meat
Medium in strength
£5.00
Madras Chicken
Fairly hot strength
£5.00
Madras Meat
Fairly hot strength
£5.00
Vindaloo Chicken
Very hot in strength
£5.00
Vindaloo Meat
Very hot in strength
£5.00
Bhuna Chicken
Dry & spicy
£5.00
Dopiaza Chicken
With caramelized onions
£5.00
Dopiaza Meat
With caramelized onions
£5.00
Rogan Chicken
With fresh tomatoes
£5.00
Rogan Meat
With fresh tomatoes
£5.00
Garlic Chicken
Spicy with fresh garlic
£5.00
Garlic Meat
Spicy with fresh garlic
£5.00
Dansak Chicken
Sweet, sour & hot with lentils
£5.00
Dansak Meat
Sweet, sour & hot with lentils
£5.00
Pathia Chicken
Hot & sour with coconut
£5.00
Pathia Meat
Hot & sour with coconut
£5.00
Saag Chicken
Cooked with spinach
£5.00
Saag Meat
Cooked with spinach
£5.00
Korma Chicken Breast
Mild & creamy
£5.50
Curry Chicken Breast
Medium in strength
£5.50
Madras Chicken Breast
Fairly hot strength
£5.50
Vindaloo Chicken Breast
Very hot in strength
£5.50
Bhuna Chicken Breast
Dry & spicy
£5.50
Dopiaza Chicken Breast
With caramelized onions
£5.50
Rogan Chicken Breast
With fresh tomatoes
£5.50
Garlic Chicken Breast
Spicy with fresh garlic
£5.50
Dansak Chicken Breast
Sweet, sour & hot with lentils
£5.50
Pathia Chicken Breast
Hot & sour with coconut
£5.50
Saag Chicken Breast
Cooked with spinach
£5.50
Chicken Tikka Balti Masala
Tender pieces of chicken tikka cooked with a thick creamy sauce. (Breast of chicken for 50p extra)
£6.00
Meat Tikka Balti Masala
Tender pieces of lamb tikka cooked with a thick creamy sauce
£6.00
Balti King Prawn Masala
Juicy king prawns cooked with a thick creamy sauce
£9.00
Special Vegetable Curry
Spiced potatoes, fresh green beans, mushrooms, cauliflower, carrots, peas, cabbage, bhindi & chickpeas
£5.00
Vegetable Korma
Mixed vegetables in a mild & creamy sauce
£5.00
Vegetable Dansak
Mixed vegetables in a sweet, sour & hot sauce with fresh lentils
£5.00
Vegetable Balti
Mixed vegetables cooked in our homemade spicy balti sauce
Medium strength
£5.00
Set For 1 - Regular
1 Starter (not including king prawn)
1 Main course dish
1 Vegetable side dish OR naan bread
1 Rice dish
£13.00
Set For 2 - Regular
2 Starters (not including king prawn)
2 Main course dishes
1 Vegetable side dish
Naan bread
2 Rice dishes
£26.00
Set For 4 - Regular
4 Starters (not including king prawn)
4 Main course dishes
2 Vegetable side dishes
2 Naan breads
4 Rice dishes
£52.00
Set for 1 - Chicken Breast (Main)
1 Starter (not including king prawn)
1 Main course dish
1 Vegetable side dish OR naan bread
1 Rice dish
£13.50
Set for 2 - Chicken Breast (Main)
2 Starters (not including king prawn)
2 Main course dishes
1 Vegetable side dish
Naan bread
2 Rice dishes
£27.00
Set for 4 - Chicken Breast (Main)
4 Starters (not including king prawn)
4 Main course dishes
2 Vegetable side dishes
2 Naan breads
4 Rice dishes
£54.00
Peshwari Naan
Homemade bread stuffed with almonds & sultanas
£2.30
Keema Naan
Homemade bread stuffed with minced lamb
£2.30
Paratha
A delicious unleavened flaky bread, lightly fried
£2.00
Stuffed Paratha
Unleavened bread stuffed with mildly spiced vegetables, lightly fried
£2.30
Roti
Plain unleavened bread cooked in tandoor
£1.60
Puri Bread
Lightly fried bread
£1.20
Tikka Masala Chicken
Marinated chicken OR lamb, spiced & grilled over charcoal & cooked in a mild creamy sauce
£6.00
Tikka Masala Lamb
Marinated chicken OR lamb, spiced & grilled over charcoal & cooked in a mild creamy sauce
£6.00
Tandoori King Prawn Masala
Marinated king prawns spiced & grilled over charcoal & cooked in a mild creamy sauce
£9.00
Zal Murgh Masala
Diced chicken barbecued with spices, then deep fried, then cooked in our masala sauce
Fairly hot
£6.00
Pili Pili Chicken
Marinated chicken cooked with garlic, onions, tomatoes, fresh chillies & ginger
£6.00
Jalfrezi Chicken
Chicken, lamb OR prawn cooked in an iron wok with tomatoes, peppers, onion & chillies-spicy &  hot
£6.00
Jalfrezi Lamb
Chicken, lamb OR prawn cooked in an iron wok with tomatoes, peppers, onion & chillies-spicy &  hot
£6.00
Jalfrezi Prawn
Chicken, lamb OR prawn cooked in an iron wok with tomatoes, peppers, onion & chillies-spicy &  hot
£6.00
Korai Chicken
Chicken OR lamb cooked with diced onions, peppers & freshly ground spices in a sizzling iron pan (Korai)
£6.00
Korai Lamb
Chicken OR lamb cooked with diced onions, peppers & freshly ground spices in a sizzling iron pan (Korai)
£6.00
Kashmiri Chicken Korai
Spring chicken cooked with garlic, mushrooms, peppers in a special blend of kashmiri herbs & spices
Spicy but medium strength
£6.00
Hyderabadi Chicken
A memorable dish of chicken OR lamb cooked to a medium hot taste in a sauce made with minced lamb, garlic & onions
One of our most popular dishes
£6.00
Hyderabadi Lamb
A memorable dish of chicken OR lamb cooked to a medium hot taste in a sauce made with minced lamb, garlic & onions
One of our most popular dishes
£6.00
Pasanda Chicken
Tender pieces of chicken OR lamb marinated in spices & yoghurt, cooked in a mild creamy deliciously flavoured sauce with herbs
£6.00
Pasanda Lamb
Tender pieces of chicken OR lamb marinated in spices & yoghurt, cooked in a mild creamy deliciously flavoured sauce with herbs
£6.00
Butter Chicken
Tikka flavoured chicken OR lamb simmered in a creamy sauce enriched with butter & mild spices
£6.00
Butter Lamb
Tikka flavoured chicken OR lamb simmered in a creamy sauce enriched with butter & mild spices
£6.00
Chicken Tikka Korma
Marinated chicken cooked in a rich & creamy sauce
£6.00
Chicken Tikka Bhuna
Marinated chicken, cooked with tomatoes, onions & fresh coriander. Spicy medium in strength
£6.00
Garlic King Prawns
Succulent king prawns, pan fried with fresh garlic, tomatoes & onions, medium strength & spicy
£9.00
Kofta Curry
Spicy meatballs cooked in our traditional curry sauce
£6.00
Hariyali Chicken Masala
Green chicken baked in a marinade of mint & coriander served in a mild creamy sauce
£6.00
Morisha Chicken
Oriental hot spices cooked with green chillies & garlic in a tangy tamarind sauce
Madras strength
£6.00
Morisha Lamb
Oriental hot spices cooked with green chillies & garlic in a tangy tamarind sauce
Madras strength
£6.00
Morisha Prawn
Oriental hot spices cooked with green chillies & garlic in a tangy tamarind sauce
Madras strength
£6.00
Chilli Masala
Pieces of freshly barbecued chicken served with our special homemade masala sauce with fresh green chillies
Madras in strength
£6.00
Tikka Masala Chicken Breast
Marinated chicken OR lamb, spiced & grilled over charcoal & cooked in a mild creamy sauce
£6.50
Half Tandoori Chicken
Chicken marinated in special spices, barbecued on flaming charcoal in the tandoor
£6.50
Tikka Main Chicken
Diced chicken OR lamb marinated in mild spices freshly barbecued on skewers in the tandoor
£6.50
Tikka Main Lamb
Diced chicken OR lamb marinated in mild spices freshly barbecued on skewers in the tandoor
£6.50
Shashlik Chicken
Diced chicken OR lamb marinated in herbs & spices freshly grilled over flaming charcoal served with roasted tomatoes, onions & green peppers
£6.50
Shashlik Lamb
Diced chicken OR lamb marinated in herbs & spices freshly grilled over flaming charcoal served with roasted tomatoes, onions & green peppers
£6.50
Tandoori Mixed Grill
A selection of lamb tikka, chicken tikka, tandoori chicken & seekh kebabs all freshly barbecued & served with naan bread
£9.00
Contact Us
Find Us
57 Lind Road, Sutton, SM14PP
We deliver to
SM1, SM2, SM3, SM4, SM5, SM6